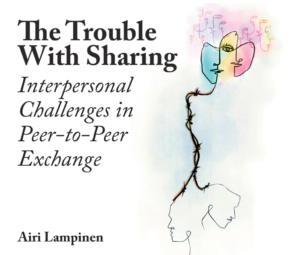 We are happy to announce Airi Lampinen's new book: The Trouble With Sharing: Interpersonal Challenges in Peer-to-Peer Exchange!
Peer-to-peer exchange is a type of sharing that involves the transfer of valued resources, such as goods and services, among members of a local community and/or between parties who have not met before the exchange encounter. It involves online systems that allow strangers to exchange in ways that were previously confined to the realm of kinship and friendship. Through the examples in this book, we encounter attempts to foster the sharing of goods and services in local communities and consider the intricacies of sharing homes temporarily with strangers (also referred to as hospitality exchange or network hospitality). Some of the exchange arrangements discussed involve money while others explicitly ban participants from using it. All rely on digital technologies, but the trickiest challenges have more to do with social interaction than technical features. This book explores what makes peer-to-peer exchange challenging, with an emphasis on reciprocity, closeness, and participation: How should we reciprocate? How might we manage interactions with those we encounter to attain some closeness but not too much? What keeps people from getting involved or draws them into exchange activities that they would rather avoid?
This book adds to the growing body of research on exchange platforms and the sharing economy. It provides empirical examples and conceptual grounding for thinking about interpersonal challenges in peer-to-peer exchange and the efforts that are required for exchange arrangements to flourish. It offers inspiration for how we might think and design differently to better understand and support the efforts of those involved in peer-to-peer exchange. While the issues cannot be simply "solved" by technology, it matters which digital tools an exchange arrangement relies on, and even seemingly small design decisions can have a significant impact on what it is like to participate in exchange processes. The technologies that support exchange arrangements—often platforms of some sort—can be driven by differing sets of values and commitments. This book invites students and scholars in the Human–Computer Interaction community, and beyond, to envision and design alternative exchange arrangements and future economies.
Read more about the book on the Morgan & Claypool website.
Recommended citation: Lampinen, A. (2021). The Trouble With Sharing. Morgan & Claypool Publishers. https://doi.org/10.2200/S01116ED1V01Y202107HCI051